Since 1968, James C. White Company has been manufacturing fluid manifolds under the brand name UNIT-HEADER®. Each manifold is custom manufactured to exact tolerances to meet each customer's specific requirements with all pipe threads and line taps machined. UNIT-HEADER® manifolds are available in one and two-inch pipe sizes and can be manufactured from three in-stock corrosion-resistant materials: aluminum, 304 stainless steel, and 316 stainless steel.
Each manifold shipped from our UNIT-HEADER® program is manufactured on-site at our factory in Greenville, SC. Every manifold is inspected for quality of fabrication detail, finish, appearance, and every thread inspected to conform to NPT-ANSI/ASME 1.20.1.
UNIT-HEADER® Catalog
Consistent quality translates directly to quick installations
Additional Details
Manifolds machined from factory stock Stainless Steel & Aluminum materials without welding for timely delivery. Every thread inspected to conform to NPT-ANSI/ASME 1.20.1 standards.
Instrument & supply manifolds made of stainless steel or aluminum
Custom-manufactured from stock materials for quick delivery
Factory-machined to customer specification
Threads machined & 100% inspected to conform to npt-ansi/asme 1.20.1
Space saving compact design with no welding
1" & 2" sch 40 aluminum manifolds – max. Working pressure 150 psi
1" sch 40 304 & 316 stainless steel – rated working pressure 600 psi
Minimum end of manifold to first tap: 1.5"
Minimum tap spacing: 1.5" – allow for valve/fitting rotation
Aluminum end caps & end reducers for aluminum headers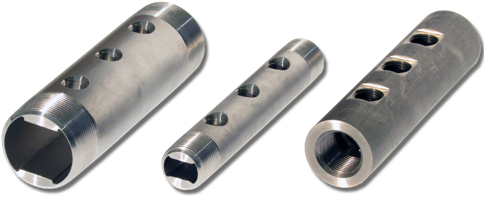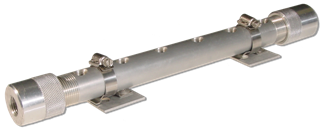 Request More Information
Use this form to get in touch with our sales department to find out more.
Sales & Service
(800) 421-9410
sales@jcwco.com